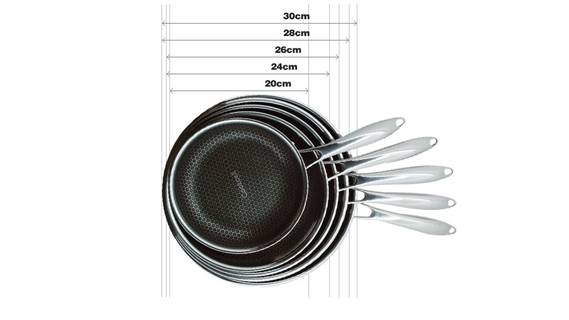 Cook Cell Hybrid Stainless/Nonstick Cookware Fry Pan, 9 1/2-Inch (24cm)
Stainless pan is healthy but tends to stick while cooking 
Aluminum pan is easy to cook but has short product life and not healthy 
We can help you - Cookcell
Cookcell combines advantages of stainless and aluminum pan  to provide safe and easy cooking life.
We consider both convenience and safety and combine these special features,
so we make convex stainless dots and fill nonstick coating into the concave area, to uphold food for good and healthy nonstick property
We use special technology to inlay the cube patterned dots inside the stainless steel frying pan. 
The dots have convex and concave on the surface.
The combination of the two materials  (stainless + nonstick coating) solves the sticky problem of the ordinary stainless steel frying pans and can extend the product life of nonstick pans.
- CUBE(Hexagonal) pattern
- Combination of stainless and nonstick coating
- Countless dots help prevent from coating peeled
- Energy save and easy clean fry pan
-  Nonstick coating is long lasting cand can not be easily scratched due to the design
- Convex and concave dot system with PFOA free non stick coating